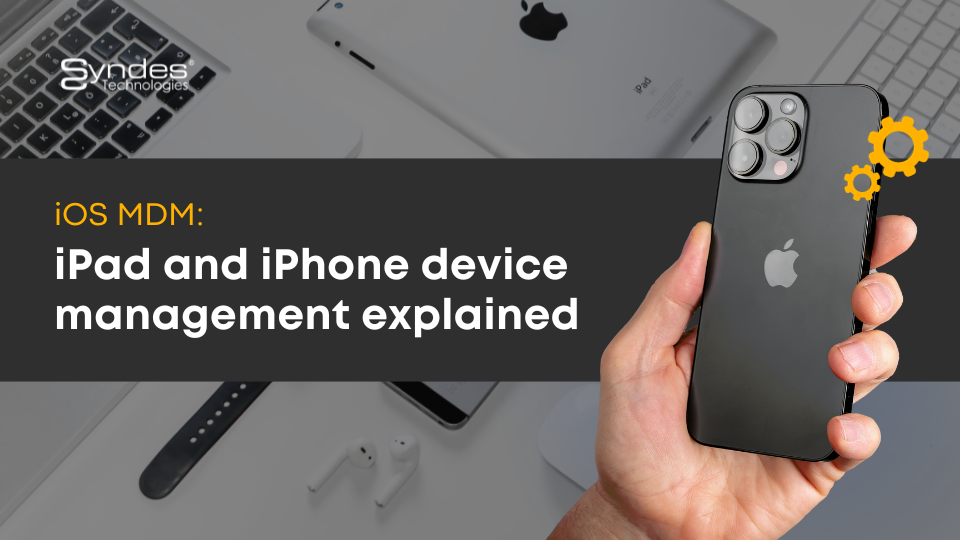 iOS MDM: iPad and iPhone device management explained
iOS Mobile Device Management, or iOS MDM, is a software tool that enables businesses (and their IT teams) to monitor and manage their iOS devices remotely. If your business utilizes iOS devices in its operations, an iOS MDM can increase your visibility and control, helping you manage them more efficiently and securely.
What is iOS device management?
iOS device management is the controlling and managing of Apple devices like iPads and iPhones for a company's use. It allows you to configure devices to meet specific requirements, set and enforce security policies, remotely update and troubleshoot devices, and safeguard sensitive data. Through software tools like MDM (Mobile Device Management platforms), you can streamline these tasks by centralizing the management of all your devices and automating manual device management tasks, which ultimately helps increase productivity and security when remotely managing iOS devices.
Which devices can you manage with MDM for iOS?
Organizations use MDM solutions for iOS to manage a wide range of Apple devices, including iPads, iPhones, and iPod Touch devices. There is even limited management for Apple Watches and Apple TVs. For these devices, iOS MDM helps to remotely configure settings, manage applications and content, and enforce security policies. The exact management capabilities will vary based on device type, iOS version, and the iOS MDM platform used.
For Mac computers, Apple has its Device Enrollment Program (DEP), Apple Business Manager (ABM), and Apple School Manager (ASM) platforms that provide similar management capabilities.
How much does MDM for iOS typically cost?
The cost of iOS MDM is complex as many factors, such as features, device count, and support level, impact the final price. Pricing models can also vary widely across vendors, with per-device, per-user, tiered plans, and custom enterprise pricing models being the most common. Which model gives you the most cost-effectiveness greatly depends on your company's needs. Some vendors also offer free versions of their iOS MDM solutions, which will most likely come with limited features and support.
What are common iOS MDM features?
As businesses rely increasingly on Apple devices like iPads and iPhones, having an MDM that gives you complete control to provide a seamless user experience is crucial. When shopping for an iOS MDM, you'll want to look for features like:
Device Enrollment: Device enrollment can be time-consuming. An iOS MDM can help you streamline the process and ensure proper configuration, often through Apple's Device Enrollment Program (DEP) or Automated Device Enrollment.
Remote control: Having remote access to a device allows IT teams to troubleshoot, update, or configure devices from any location, ensuring devices are always ready to use.
Content and app management: iOS MDMs can give you full control of the content and apps on your devices from anywhere. You can distribute, install, update, and remove content and apps remotely to ensure compliance and performance.
Hardened kiosk mode: There are many risks to devices when they're out in the wild. A secure kiosk mode locks your devices to only the app or apps you choose, helping to prevent unauthorized user activity and tampering. 
Device tracking: Knowing your devices are in the right place is crucial if you have a widely dispersed fleet. iOS MDMs let you track device location, set geographical boundaries, and lock or wipe stolen or missing devices.
iPad device management vs. iPhone device management
MDMs for iPads and iPhones are generally similar as they both run on Apple's mobile operating system (iOS for iPhones, iPadOS for iPads — both branches of the same tree). Still, some specific requirements may differ between them due to their distinct use cases and capabilities, including:
Kiosk mode: Due to their versatility, businesses often use iPads instead of kiosks or point-of-sale devices. A robust kiosk mode may be more important to lock down iPads to a single app or a set of approved apps.
Shared iPad mode: iPads are often configured for shared use, letting multiple users access personalized settings and apps. Make sure your iOS MDM solution can adequately support this process.
Apple Pencil support: Peripherals need to be managed too. If Apple Pencils are in the picture, ensure you can manage and configure their settings.
Education-specific features: iPads are becoming more popular in education use cases. You may need an iOS MDM with classroom management tools, app distribution for learning materials, and student device monitoring.
Screen size: The screen size and resolution difference between iPads and iPhones can impact content distribution and content and app layouts. If you have a mixed fleet, the ability to granularly customize is key.
iOS MDM limitations and drawbacks
While iOS MDM offers significant benefits to improving the management of Apple devices, there are some limitations and drawbacks.
It's no secret that Apple can be very restrictive. While you'll gain some control over your iOS devices with an iOS MDM, you'll also run into many restrictions due to Apple's focus on user privacy and security. Your user experience will be impacted by not being able to control your apps, settings, or security policies fully.
App procurement, distribution, and configuration also come with limitations. You'll be entirely reliant on the Apple App Store and subject to Apple's app review and approval process for distributing custom or proprietary apps. Additionally, actions such as app installations and configurations often require user consent, making it nearly impossible for these actions to be non-disruptive.
And then there's the ultimate restriction: Apple only loves Apple. iOS MDM is tightly integrated with Apple services, meaning MDM providers have to rely on Apple's ecosystem when building their platform. This can lead to vendor lock-in and limit flexibility in migrating to non-Apple solutions. The switch can be cumbersome and includes establishing new infrastructure, enrolling devices, and reconfiguring policies.
Key considerations when shopping for iOS MDM
It may seem obvious, but your use case is the most crucial consideration when shopping for an iOS MDM. The application of your devices will significantly determine what you need in an iOS MDM, and the more complex your use case is, the more crucial finding the right iOS MDM becomes.
Features like simplified deployment, robust security, and the ability to customize are essential for ensuring admins and end-users have a high-quality experience. For long-term success, paying attention to an iOS MDM's flexibility, scalability, and integration capabilities is crucial to ensure it can grow and change with your business.
Source: Alex, D. (2023, September 13). iOS MDM: iPad and iPhone Device Management Explained
In SYNDES TECHNOLOGIES Your Security Is Our Priority.
Sorry, the comment form is closed at this time.