What is Samsung Knox Manage?
Knox Manage is a cloud-based Enterprise Mobility Management (EMM) solution optimized for enterprise customers to manage and monitor employee devices with flexibility and granularity.
Key Selling Points:
1. Quick and Easy Deployment
Knox Manage's cloud-based command center empowers IT admins to remotely manage and configure device settings. It doesn't require any system integration, empowering admins to quickly and easily set up their corporate environment.
Leveraging the Samsung Knox Mobile Enrollment service, Knox Manage's automatic client installation and enrollment, greatly decreases deployment time. And its built-in tools help users set up devices in kiosk mode with no additional development work.
Features:
Knox Mobile Enrollment: Enroll bulk users automatically.
Kiosk Wizard: Create diverse kiosks using drag and drop components.
Getting started guide: Get started with initial setup conveniently.

2. Robust Management 
Smartphones are portable powerhouses, but with Knox Manage, an enterprise can restrict how these devices are used to prevent the leaking of confidential business data by employees performing unintended actions. More than 280 policies are available, including whitelisting and blacklisting apps or websites, as well as pushing required apps or files.
IT admins can also manage devices based on pre-defined events – for instance, blocking access to cameras on employee phones during work hours, or establishing an exception policy to a specific user for a certain length of time.
Features:
Event-based Management: Apply a set of policies in particular circumstances.
Differentiated Knox features: Supports Knox Platform for Enterprise features
Application Management: Set up policies and distribute apps for business use.
Admin Management: Manage sub-admins and technical support admins.
Cross-platform Support: Manage multi-OS devices from a single console.
Device Management: Control device features and configuration settings.
Content Management: Distribute content over-the-air.
DeX Management: DeX mode and application configuration.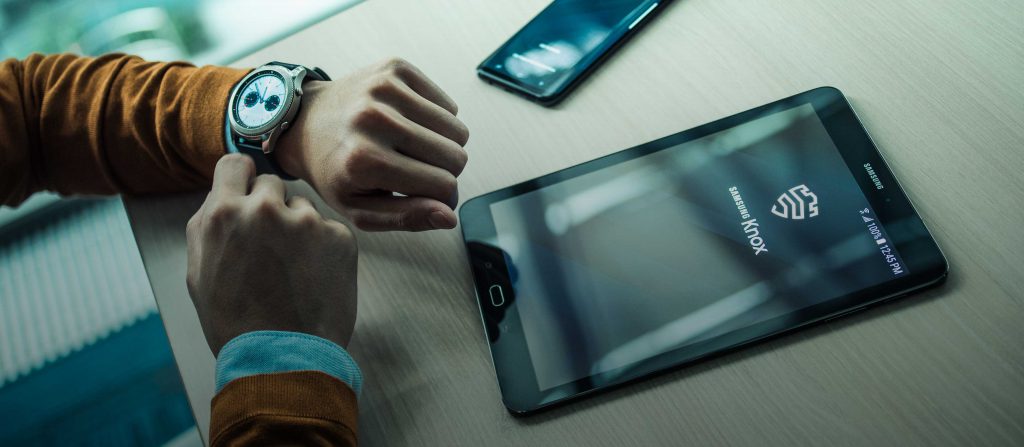 3. Comprehensive Control 
Real-time device monitoring allows IT admins to track the current GPS-based location of all managed devices (with employee consent), and message all device owners without needing their phone numbers.
If an employee encounters a problem while out of office, they can authorize IT admins to request direct access their device for easy troubleshooting. This allows IT admins to quickly help employees get back to work. And if a device is reported lost or stolen, IT can remotely locate it, lock it, reboot it, and wipe its content.
Features:
Remote device lock/wipe: Remotely lock or wipe a device in case lost or stolen.
Precise Compliance Check: Check policy compliance using customized alerts.
Remote device support: Allows an admin to access devices remotely for troubleshooting and maintenance.
Granular Firmware Management: Selectively control firmware updates using Knox E-FOTA.
---
Discover more: