Online Videoconference Background Improves WFH
By the increasing cases related to COVID-19, the government of Malaysia decided to extend the Movement Control Order until April 14. The extension will certainly affect the incomes and cash flows of the companies as the business operations are limited. In order to catch-up with the work from home (WFH) employees, video conferencing tool such as Zoom, Skype, and Google Hangouts are three places to start.
Zoom is one of the widely used video conferencing tools to conduct company meetings. The employees can attend the meeting in-person, via webcam or video conferencing camera, or via phone. In meetings, a creative Zoom background tends to function as an icebreaker—something cute to discuss for three minutes while awaiting stragglers. In one-on-one chats, however, it's proving an opportunity to be strategic. Other than that, the virtual background protects the privacy of employees which they don't feel to disclose.
Hillary Lannan, who works in talent acquisition in San Francisco, opened up her own world of fantasy and freedom when she selected an image of Infinity Mirror Room—Phalli's Field as her Zoom virtual background, the image automatically displayed behind her in the now-ubiquitous videoconferencing application. She matches her lipsticks, shirt and even wear a red wig with the virtual background. Her effort was not a mere creative outlet in a pandemic-driven work-from-home culture; it was an entry in a competition organized by her employer, the San Francisco office of R/GA, a global agency.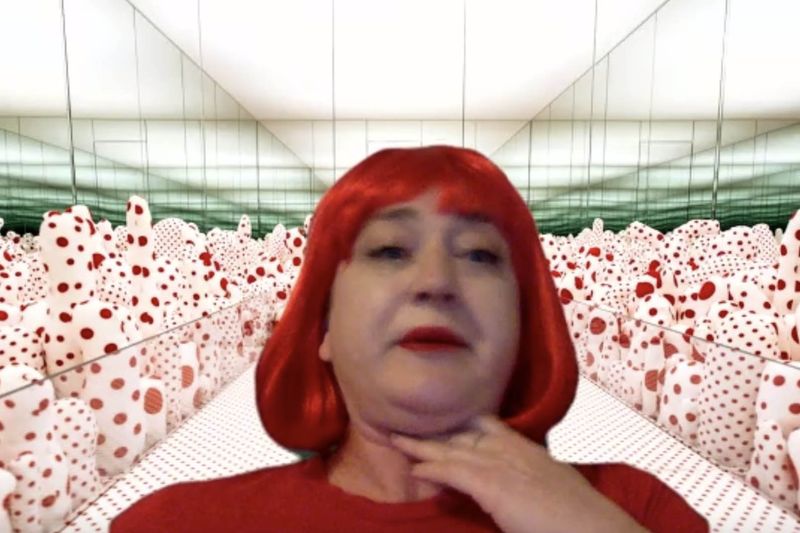 David Corns, the San Francisco office's managing director of R/GA, says has long had a remote-work culture, launched the competitions about three weeks ago, but it's hardly the only company or organization to have embraced the fun side of videoconferencing. With millions of Americans stuck at home in varying states of neatness—and often dealing with uninhibited children (and/or romantic partners)—embracing the use of virtual backgrounds helps not only to hide the clutter and create a professional image but to improve morale, as well as accomplish legitimate business objectives.
However, the line between entertaining the employees and annoying them, however, can be a fine one. Sean Gentry—a die-hard fan of the Los Angeles Lakers,when he was Zooming with R/GA's Corns, his doppelganger would suddenly appear behind him, peek in over his own shoulder, then exit screen left—a virtual video background that would repeat every 30 seconds or so. Eventually, with a couple of clicks, Corn changed the background to a static image.
Sorry, the comment form is closed at this time.