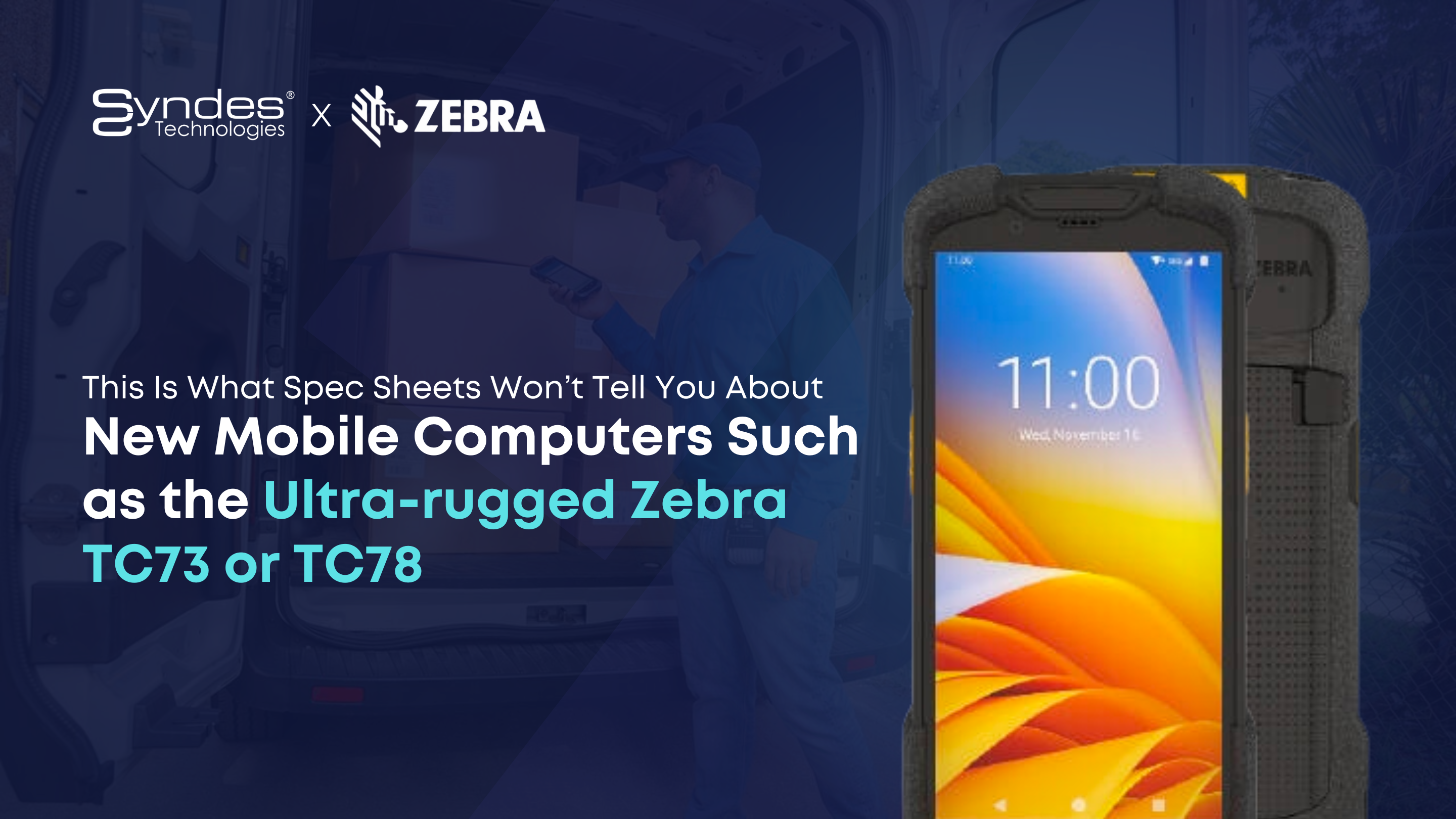 This Is What Spec Sheets Won't Tell You About New Mobile Computers Such as the Ultra-rugged Zebra TC73 or TC78
DO YOU KNOW WHY IP RATINGS, DROP SPECS, PROCESSING POWER, AND THE DIFFERENT SECURITY, UX AND WORKFLOW-SPECIFIC FEATURES REALLY MATTER TO YOUR BUSINESS? OR HOW THEY WORK WITH OTHER TECH TO HELP WORKERS DELIVER RESULTS?
Since they are part of the TC7x Series, which has been around since 2015, you might assume they are simply "next generation" devices – or refreshes of the legacy TC7x mobile computing platform. As a result, you may think to yourself, "I don't need to upgrade my devices right now. My workers are getting along fine with the older TC7x mobile computers. I'll wait until the next generation device comes out in a year as it will likely have even more new features – many of which I'll probably need by then."
The problem with that logic is that it doesn't give weight to the critical updates that were made in the new generation TC73 and TC78 devices, including:
The physical redesign of the devices makes the screen 28% larger than previous TC7x devices, but the overall device is lighter, easier to hold and more tolerant of drops. 
The ability to run more apps simultaneously thanks to significant processing power improvements and up to 4x more memory than previous generation devices.  
Device Tracker, which helps facilitate the fast recovery of lost, stolen or missing devices using built-in Bluetooth Low Energy technology. 
The integration of the SE55 extended range scan engine, which uses intelligent autofocus to quickly determine barcode distance and then capture it, which speeds up barcode-reliant workflows.
The addition of certified mobile dimensioning, mobile payment, and augmented reality capabilities to help speed up everything from package processing and sales transactions to order picking and putting away. 
It also diminishes the value of the connections that must now be made to Wi-Fi 6E, 5G and CBRS* networks for the sake of consistent workforce and customer communications. 
Steadiness – information sharing, task execution, and customer service – is one of the most valued qualities in business today. But maintaining steady data flows, workflows and output is going to be difficult if your employees' mobile devices aren't working as they should be.
What can hinder mobile device performance?
Too little memory or storage

A lack of processing power

Difficulties connecting to – or staying connected to – wireless networks or peripherals when working outside your four walls

Not anticipating the need for – and installing – new faster, better-managed networks as devices and network load increase within your four walls or in your yard

Challenges keeping the operating system (OS), applications, security defences and other "software stack" components up to date
A user interface that didn't take user feedback into account when it was designed. Therefore, upgrading to a device that addresses even one of these issues may deliver countless benefits and extreme value to your front-line teams, customers, and overall business. Consider what happens in some of the most physically demanding work environments today, such as airline baggage handling and freight, package courier/postal, and warehouse sites. 
Front-line workers are under immense time pressure to turn around planes, packages, and more without delay. If they can't do their jobs, then the people you serve and the products you promise won't reach their destination on time, and that's a problem. Not only will you be dealing with unhappy customers, but you'll be facing increased shipping, labour and fuel costs down the line while struggling to improve on-time metrics among other key performance indicators.
Now, I know a mobile computer like the TC73 or TC78 won't be able to prevent or solve every business challenge you face, such as soaring inflation or labour, petrol, and material shortages. But it will give you the means to introduce new work processes in response to each emerging or evolving challenge. It's the tool that gives your workers the guidance, information, and mechanisms they need to quickly finish different tasks that, in summation, lead to completing one big job: keeping people, packages and products moving from one point to the next. 
Of course, if you give your workers a mobile computer with limited capabilities (such as a consumer-grade device or an older enterprise mobile computer), their work capabilities will be limited, too. They may not be able to work as fast or consistently as you want, troubleshoot issues, respond to customer inquiries, or pick up the slack when the team is shorthanded. It's like giving someone two sticks to start a fire versus a log lighter. There will eventually be flames either way, but the light will deliver immediate results.
Sorry, the comment form is closed at this time.