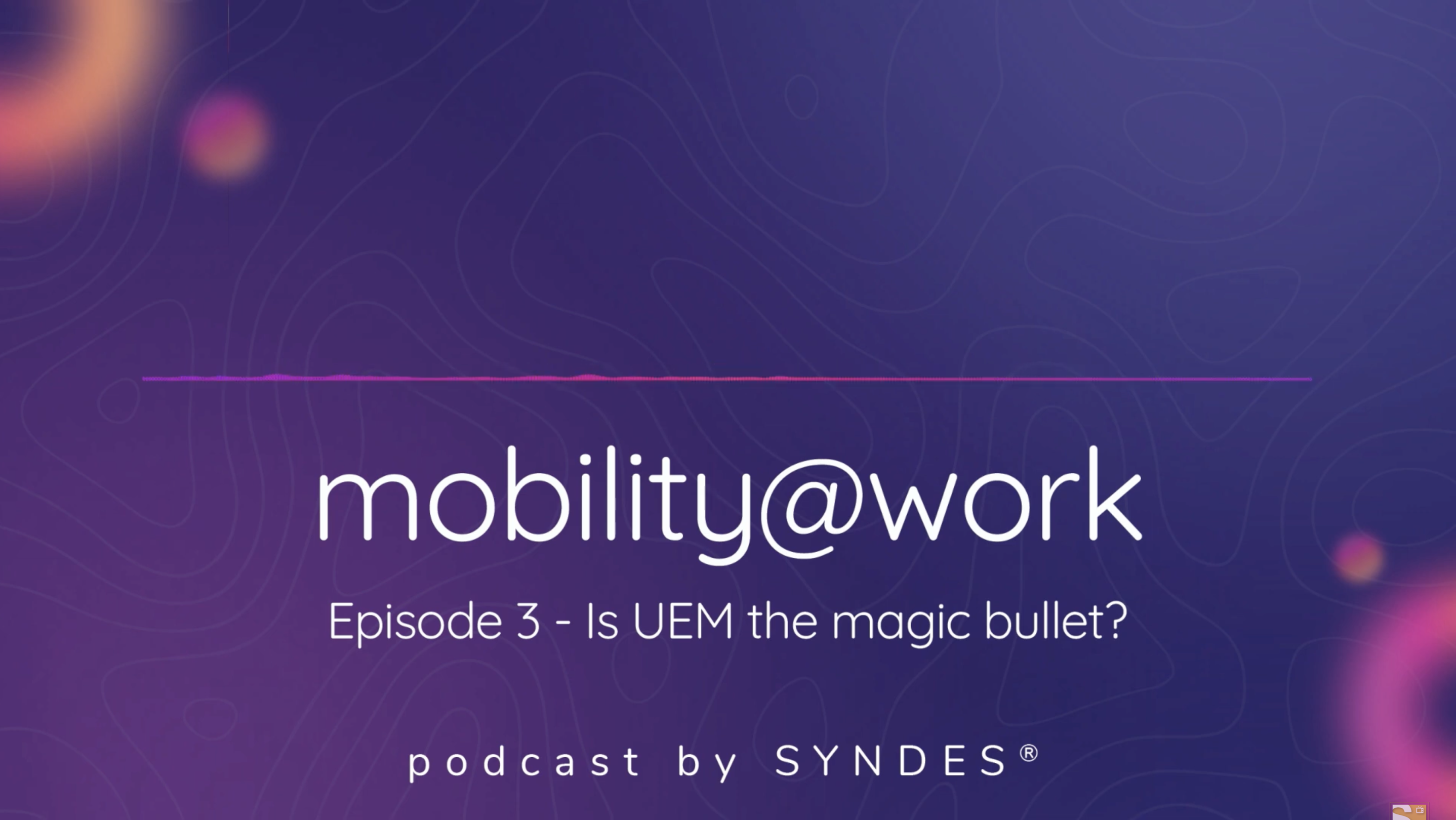 "Is UEM the magic bullet?" Mobility@Work Podcast
[Intro Music: "Tech House vibes" by Alejandro Magaña (A. M.)] 
TUN XIANG: Welcome to Mobility@Work and my name is Tun Xiang from SYNDES Technologies. We at SYNDES cover the must-have technologies for your business to keep you ahead of the curve.
[Intro Music: "Tech House vibes" by Alejandro Magaña (A. M.)]
TUN XIANG: In this episode, Amith, the Lead Brand Strategiest from Mitsogo will be covering their very own Unified endpoint management solution, or UEM, 
for short. If you haven't known what UEM means, keep listening then. Unified endpoint 
management is the new kid on the block for device management solutions, but what 
benefits does it bring to the workplace? Is it really the magic bullet for managing 
all your company's devices? Let's find out.
To start off this episode, what can you tell us, Amith, about the difference between MDM and UEM? 
AMITH: Hey there, everyone. So, yes, MDM and UEM, what's the difference? So, well, to put it in simple words, UEM and MDM kind of belong to the same family, more or less. I'll elaborate. So, MDM or mobile device management deals with managing and supervising mobile devices alone, while UEM, that is unified endpoint management, deals with managing all devices. This includes support for laptops, PCs mobile devices, TVs and other IoTs with multiple OS support.
TUN XIANG: Wow, so UEM is basically able to manage all sorts of digital devices rather than just mobile devices. I think that's quite straightforward, yeah. Now, everything we have is fully mobile, you know, as we still need to accommodate every device until perhaps one day, all of them share a common OS. 
The next question I have for you, Amith, is about the bring your own device policy or BYOD for short. So, why would places allow employees to BYOD? How does this shape the way we work? What sort of challenges did it bring and where does UEM come into play in all of this?
AMITH: Well, bring your own device, or BYOD has really changed how we work. The ability to use your own device for working does have its impact. Even though the concept is not necessarily new, the debate still exists whether BYOD is the way to go. What are the pros? Cost-effective, reduces the learning curve because they're already working on their own devices, and allows employees to work remotely. However, the lack of secure environment and device monitoring within the organisation can lead them to fall for cyber security threats, putting the organisation and the employees in a fix, yeah. There's also the risk of privacy breach and it could be a headache for IT admins having to manage different types of devices, you know. 
So, that's where unified endpoint management comes in. The risks I've mentioned are no small things. So, it's critical the organisations realise how UEMs help secure their BYOD deployment. They provide an advanced level of security by enforcing 
the necessary settings and configurations on employee personal devices. Apart from that, you've got features such as remote wipe that we mentioned in the last episode that will significantly reduce the risk in case a device gets lost or misplaced. With a UEM, you'll be able to separate corporate data from personal data of the user as well and ultimately provide, as the name suggests, a unified centralised platform to manage devices from different platforms.
TUN XIANG: Hmm… Oh, yes, it's really chilling just how many people 
are still not really aware of cybersecurity in this day or age of digital devices. 
Sensitive data is now as valuable as gold and just like gold, it's not something you want 
stolen. If there's a data breach, the cost of fixing everything would outweigh the savings 
of a BYOD policy. I'm not surprised if hackers have rode the wave of digitisation of workplaces and targeted BYOD devices due to the pandemic. So, I can see why with UEM security features, it goes hand-in-hand with BYOD. 
OK, so, now we know how important device management solutions are and that Mitsogo has its own, right? And we know there are other providers of desktop and MDM solutions too, so I have to ask what makes the Hexnode UEM solution stand out from the crowd?
AMITH: Oh, well, Dave Chappelle couldn't have been more right when he said, "Modern problems require modern solutions", right? So, Hexnode helps your organisation cover every aspect of device management, right from onboarding your devices, alright? Oh yeah, our enrollment methods range from no touch like using DEP for Apple to minimal touch like QR and email. 
We spoke about BYOD a while ago. Hexnode is flexible enough to let you manage your device in whatever possible setting, be it BYOD, COPE, CYOD or COBO. So, CYOD is choose your own device, so that would mean the company gives you the options to choose 
what device you want to work with. COPE is company owned/personally enabled, so these devices are provided by the business, but you have the option to enable the device and to an extent, use them for your personal use. And COBO is company owned/business only, so these are strictly, these are devices that can only be strictly used for business purposes and mostly are restricted to their environment. 
So, they might not be allowed to be taken away from the network they're configured in or in the office setting that they're currently in, right? So, Hexnode provides-
TUN XIANG: That's a lot of policies.
AMITH: Yeah, yeah. So, Hexnode provides containerisation that comes with Android Enterprise that allows you to separate work data from personal data on your personal 
devices, right? Do we have multi-OS support? Yup! We provide ever-comprehensive, very 
comprehensive support right from iOS, macOS, tvOS, Android, Windows and Fire OS devices of all shapes and sizes. You'll be able to access and modify all your policies and restrictions from a single place and assign it to all your devices individually or, you know, kind of in a group. You'll also be able to convert your devices into a secure, restricted workspace without kiosk mode for every platform. 
So, we believe in simplicity and we want our users to experience that simplicity while using Hexnode. We've ensured what functions other UEMs take multiple steps to complete and we get it done in like a single step. Add to add that our expert support team and detailed documentation on everything you need makes the whole journey with using Hexnode a very pleasant one.
TUN XIANG: I really love that quote from Dave Chapelle just now. It always 
reminds us to get on with the times, yeah?
AMITH: Yeah. [chuckles]
TUN XIANG: What can I tell from your response is that Hexnode emphasises on three things: first is the flexibility with so many ways to enroll the devices and compatibility with different operating systems. The second thing is simplicity, so that everything is user-friendly and could be done in fewer steps. And third is security, we have always been reminding the listeners throughout the podcast. 
Now, let's talk about real life applications. Tell us how your UEM solution transforms the way one of your clients or even the entire industry operates. Would you mind sharing us a success story?
AMITH: Oh, well, first off, Tun Xiang, I couldn't have put it better that Hexnode emphasises on the three things that you mentioned. That's, like, great and whoa, where should I start from about the success stories? So, we've ensured that every organisation gets their IT workload reduced while simplifying their device management and securing their data right from healthcare, education, government, retail, banking, hospitality, the list just goes on. But you get the point. 
So, for example, CONSEC security is an Australian owned and operated security company that provides access control, asset surveillance and concierge security. They had deployed Android devices to its employees who perform mobile patrols. Their only purpose? Monitor patrols and employee safety. To keep these devices strictly in work mode at times, they decided to opt for a UEM solution and Hexnode, well, delivered on that. A single app kiosk policy was implemented allowing the employees to access only the whitelisted applications in it. The IT admins could see the real-time location of the devices and download the location history reports as well. This ensured that the devices were used strictly for work purposes, therefore increasing their productivity.
TUN XIANG: Hmm, it's great to know how Hexnode caters to so many industries at once. Funny you mentioned an Australian security company as a success story because I've been there for my studies and yes, I observed that they really like to use outsourced security personnel. That probably means the employees have different assignments. They have to work in various places too, which is why location tracking is really essential. So, I believe it's so much more convenient if they can take those restricted devices around with them for work, instead of having to use a device for each place there. 
Alright, before we end this, could you share some advice on how to use your UEM solution to its fullest potential?
AMITH: The benefits that UEM provides are plenty. It makes sense for organisations to embrace UEMs without any hesitation. It helps them simplify their workflow and device management, enhance work staff productivity and secure their devices. It's essential to plan your implementation strategy like we said before. Note the core functionalities you would want from the UEM, prioritise the features you would want to implement first, test the UEM solution thoroughly with different devices that you're going to use, set up policies and restrictions you'd want to implement on your devices. All that and finally, train your employees about everything UEM, right? From the documentation to the tutorial videos, ensure your employees understand the functionalities and the features of the solution.
TUN XIANG: Yeah. Strategy is really important or the UEM solution could end up being a huge waste of time and money. And I agree that the company should give their employees a brief training session first before they enrol employees' devices or else they could experience huge teething problems. Like, for example, the devices going haywire after enrollment.
AMITH: Exactly.
TUN XIANG: Yeah, but I hope if any business would like to get started with Hexnode, you'll provide intensive support for them right?
AMITH: Definitely! You can hit us up at
hexnode.com/support
and
mdm-support@hexnode.com
and either set up a call immediately, schedule a call for later or even email us and we'll definitely get back to you as soon as we receive that email.
TUN XIANG: Lovely. Thanks for sharing that. Really appreciate your time today, Amith. A UEM solution is really powerful for businesses and I'm very impressed that we can manage and supervise more than mobile devices with just one solution. 
Thank you for joining us on this episode of the podcast. Amith from Mitsogo is going to be sticking around for a few more episodes to talk to us about MDM and Mitsogo's, one of a kind UEM solution, Hexnode. Do check out our website syndes.biz and follow us on social media for more content about managing your businesses with technologies. 
I am Tun Xiang and thank you for listening to mobility at work. Stay tuned for the next episode. Goodbye for now! 
[Outro Music: "Tech House vibes" by Alejandro Magaña (A. M.)]
Listen to our latest podcast on other platforms:
Spotify:
https://loom.ly/WLaV8zE
Google:
https://loom.ly/qZoCNBA
Apple:
https://loom.ly/Sv2vmyU
Youtube:
https://loom.ly/kUOh0ow
Sorry, the comment form is closed at this time.