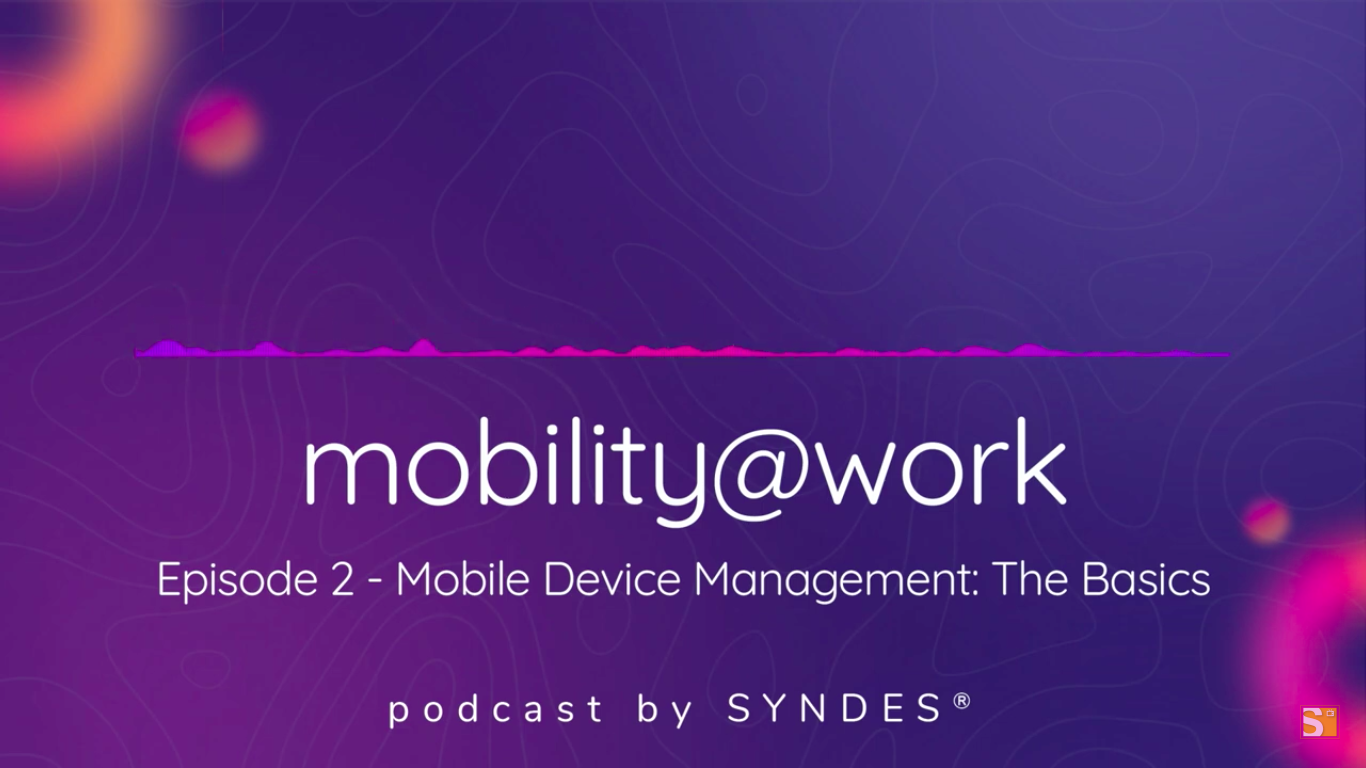 "Mobile Device Management: The Basics" Mobility@Work Podcast
[Intro Music: "Tech House vibes" by Alejandro Magaña (A. M.)]
TUN XIANG: Welcome to Mobility@Work and my name is Tun Xiang from SYNDES Technologies. We at SYNDES cover the must-have technologies for your business to keep you ahead of the curve.
[Intro Music: "Tech House vibes" by Alejandro Magaña (A. M.)]
TUN XIANG: With great power comes great responsibility. Mobile devices are powerful tools but managing one is not as easy as you think. The importance of mobile device management and why we need a dedicated solution to managing mobile devices. 
In the last episode, we talked about the differences between using mobile devices and PCs in the workplace. I understand mobile device management, or MDM for short, is a part of what Mitsogo's product Hexnode does. For today's episode, let's learn about the basics of MDM, a relatively new invention with Amith, the Lead Brand Strategist from Mitsogo.
What better than to start with what exactly is MDM? How does it even work at all?
AMITH: Yes, Tun Xiang. Thank you so much for bringing me to your podcast and let's get started, yeah?
So, mobile device management is a centralised manner of managing mobile devices within an organisation that lets them set up, monitor and secure mobile devices that lets them set up, monitor and secure mobile devices. You know, it's a pain from an IT admin point of view having to manage and supervise each device individually. With MDMs, IT admins can bulk enrol a whole fleet of devices at once and have them ready for users. 
So, for example, when an employee enters his new username and password, the device gets set up with the MDM, pushing all the required apps, security updates, and you know, everything else. MDMs allow IT to collect valuable information like device health, activity stats, device location and more. With MDMs, you can push relevant apps, OS updates, security configurations and content through the MDM to the targeted device.
TUN XIANG: I see. That's a great introduction of what MDM's about, especially that part about mass managing devices. It's definitely going to save everyone a lot of time, and since time is money, you save a lot of money too. It's also simply crazy to think how much data you can collect from just using MDM software. So, what do you think are the factors that led to the development of MDM? Did the advancements in technology play a role in this?
AMITH: Hmm, I feel MDMs exist to make the IT admin's life much easier and then there's always security concerns, you know. For example, risk of sensitive corporate data going to the wrong hands, data breach or data losses due to a misplaced device, you know. So, it's a big headache for organisations having to deal with such risks on a regular basis. 
This is where MDMs come in and kind of save the day. MDMs allow you to enforce security policies and restrictions on mobile devices, allowing you to manage employees devices without having to configure it manually on every single device.
TUN XIANG: You know, making everyone's lives easier should always be the goal of all inventions.
[TUN XIANG and AMITH laugh]
TUN XIANG: I think the security concerns part is really important because our world is becoming more and more digitised, and this digitisation is being fast tracked by the pandemic right now. It makes information welfare a credible threat compared to the previous decade or so. Certainly, more devices in use means more chances to access data, so putting the two together, I can see what you mean by having an easy way to secure many devices at once.
AMITH: Mm-hmm.
TUN XIANG: Now that you know what MDM is and how it came to be, I'm curious to know about the use cases for MDM. Could you please give us an example or two?
AMITH: For starters, the security benefits that I mentioned before are too good to ignore, you know. For example, you're travelling on a train and you lose your phone inside the train. Your phone's got sensitive emails and other corporate data, which ideally you wouldn't want anyone to access. This is where MDMs play their part, yeah. With MDMs, you'll be able to remotely lock your devices and remotely wipe your devices, while collecting reports on the device's location, thus relieving you from all the stress. I'll give another example, right? 
So, one of Hexnode's customers, ANDALUSIA, is one of the biggest healthcare networks in the Middle East. Their marketing team keeps travelling, going to their field of work, so their system admin requires an MDM for location tracking, which would give extensive reports as this was their way of evaluating their employees. Alright, so Hexnode did just that.
Implementing Hexnode allowed their IT department to manage and track the location of all the mobile devices in the market and sales department. The complete location history report on each individual device provided solid information about the behaviour of the employees. The location check-in feature within our app allowed them to push their current location manually when required.
TUN XIANG: Yes, definitely device security is the greatest use of MDM and I really love the relevant example of remotely wiping devices. It's kind of like one of the features of Find My iPhone, if I'm not mistaken.
AMITH: Yeah.
TUN XIANG: Yeah. That's great. And the example of what you can do with tracking, that's a great explanation too, when there's a lot of data together with MDM, but you don't really know what to do with it. So, in the case of ANDULASIA, the location data is used to assess the employees' performance.
Moving on, Amith, you're saying earlier that MDM allows you to enforce device restrictions, and when locking down a mobile device to a specific function is one of the common uses of MDM, is there a benefit to doing that?
AMITH: Well, MDMs have a lot of features such as enforcing password policies, blocking jailbroken devices from logging onto your corporate networks, restricting the device to only a certain set of apps and turning off device features that violate these policies. MDMs can also restrict access to websites, apps, settings and other functionalities of a device. 
So, basically you can push a restriction policy onto a device, which blocks several functionalities of the device. This protects your data from being vulnerable to cyber attacks, improves your device security, reduces distractions and also prevents third-party apps from accessing corporate data and resources. 
TUN XIANG: OK. I was thinking about in the first place, what you guys call it, correct me if I'm wrong, kiosk lockdown management because I see so many devices in the public that I think are smart devices under MDM and they're used for only a single purpose. But of course, it's just the tip of the iceberg, you know, when there are so many great features that are perhaps more relevant to all industries since, you know, not everything in the world is about service. I guess to Mitsogo, security seems to be the main priority for MDM over anything else, and I can understand why.
Moving on, another thing I noticed on Hexnode's main page is that you spotlighted digital signage as one of the use cases for MDM. I'm curious to know why you guys signal out digital signage among so many uses of MDM?
AMITH: Well, we are kind of surrounded by screens,  aren't we? So, it's natural that we want to leverage this to our benefit, and more importantly, leverage this to other organisations' benefits. Right from the start, advertising to digital menus at restaurants, to informing people of hygiene and social distancing measures, the applications of digital signages are pretty endless. And it's much more cost effective when compared to print media, being environmentally better at the same time.
TUN XIANG: So, you're saying it's more eco-friendly and it costs less to leave a screen on 24/7 than printing out copies of flyers and posters, right? 
AMITH: Yup.
TUN XIANG: Alright. So, I do agree with you that screens are all over us and that's for a good reason. We're drawn towards them by instinct while so many technologies around us are shrinking. I believe screens are growing larger instead to increase how much you can see and interact with them. Definitely a great opportunity to tack something on them with MDM then. 
Let's wrap up by asking how long does it usually take to set up an MDM solution for a client? 
AMITH: That's a very good question. Honestly, it depends upon an organisation's requirements, like how many devices do they have, what kind of devices, what policies to implement and so on. but it really doesn't take as much time for implementation. Enrolling a device using an MDM takes less than a minute for a single device. And there's the option of bulk enrolment as well, that too with different types of enrolment, be it with QR code, email, open enrollment, you name it. As I said, earlier initial planning, however, is required regarding what policies, restrictions must be implemented before rolling them out to the devices. But the headache is much less for the IT admins, as opposed to them managing and supervising every device individually. And, better yet, we have a 24/5 support team that can help you out with the process throughout, with setting up the device even to the last end restriction that you want to push out to the device.
TUN XIANG: That's great. It's really good to know how convenient, you know, like there's so many ways you can enroll a device and how quick it is to introduce MDM to the workplace. Well, I don't know how quicker you can go than a few minutes like you said. But I think even with the caveat of taking time to plan out how you manage the devices, the time savings in the long term should be astronomical.
AMITH: Yeah. 
TUN XIANG: Is there anything else Mitsogo would like the listeners to know about managing mobile devices?
AMITH: Well, given today's scenario where most employees are working remotely, it's natural for organisations to think that it would affect their productivity as well as raise security concerns. And that is where MDMs come in. I think by the end of today's podcast, the listeners will have a clear idea about MDMs and their relevance.
TUN XIANG: Yeah, fantastic. I really hope that's the case for our listeners, you know, based on your very thorough explanation of myth busting about MDM throughout the podcast. Today was quite an informative episode and we're getting clearer on how it works, And why it's important for businesses. Thank you for joining us on this episode of the podcast with Amith from Mitsogo. Amith will be sticking around for a few more episodes to talk with us about MDM and Mitsogo's one of a kind UEM solution, Hexnode. Do check out our website syndes.biz and follow us on social media for more content about managing your businesses with technologies. 
I am Tun Xiang and thank you for listening to Mobility@Work. Stay tuned for the next episode. Goodbye for now!
[Outro Music: "Tech House vibes" by Alejandro Magaña (A. M.)]
In SYNDES TECHNOLOGIES Your Security Is Our Priority.
Listen to our latest podcast on other platforms:
Sorry, the comment form is closed at this time.