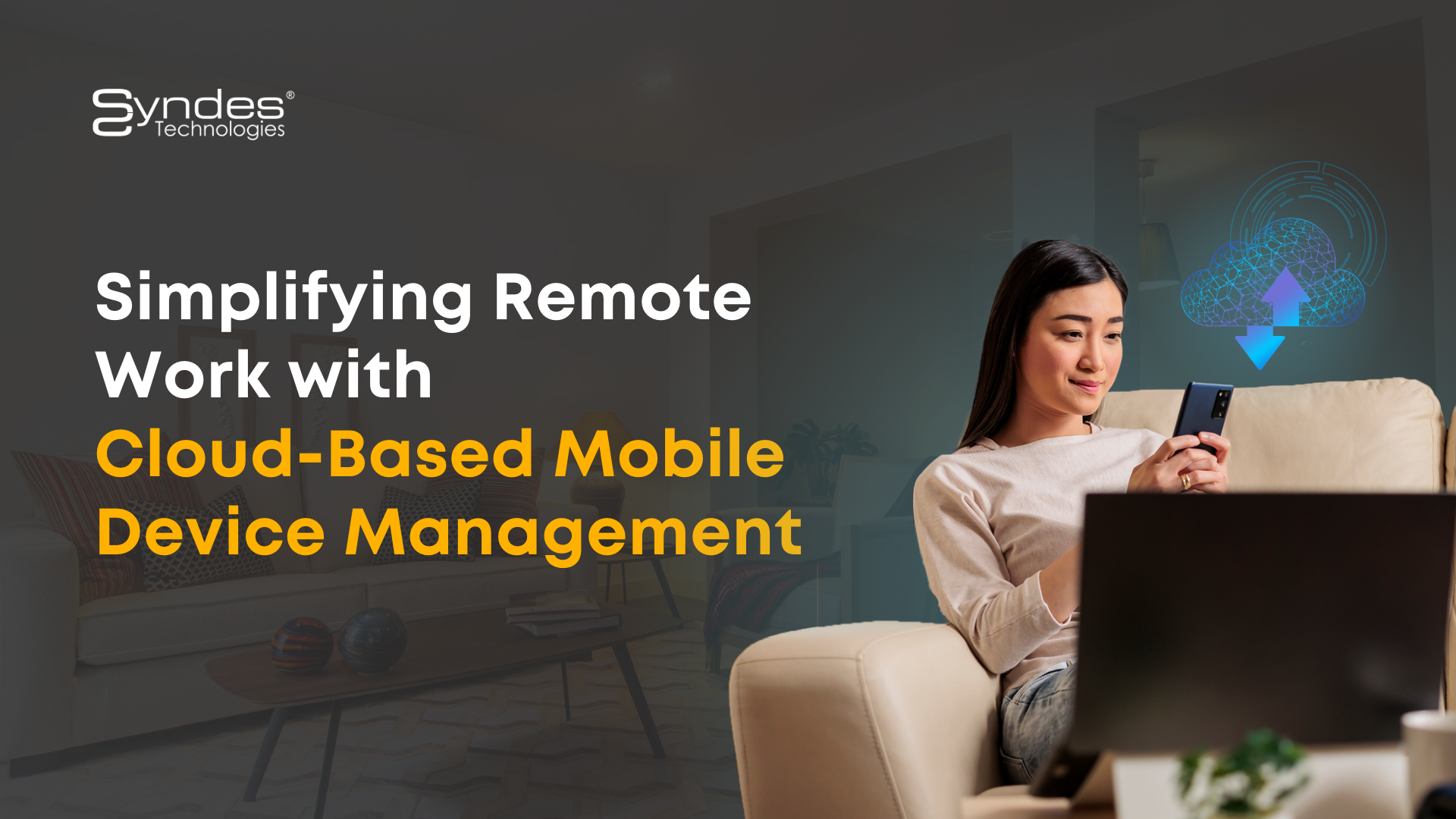 Simplifying Remote Work with Cloud-Based MDM
It's hard to overstate the significance of device management for companies today. Years ago, businesses were able to manage their devices manually or through basic solutions that provided limited capabilities. While these solutions were useful in establishing a baseline level of security and control over devices, they were simply not designed to address the complexities of modern device management.

Fast forward to today, and we find that device management has become increasingly intricate and multifaceted. Failure to properly manage devices can have severe consequences for businesses, especially in today's climate. Forcing most employees to work remotely and without direct access to office resources, the need for

effective device management

has become even more pressing. Companies are grappling with tough questions around how to manage devices and ensure that their employees have the tools they need to stay productive while working from home. The stakes are high, and the consequences of inadequate device management can be devastating.

In short, device management is no longer a nice-to-have; it's an absolute necessity. Companies that fail to invest in robust device management solutions do so at their peril. The good news is that there are now sophisticated solutions available that can help businesses manage their devices with ease and effectiveness. It's time for companies to take device management seriously and invest in the tools and solutions that will enable them to thrive in today's rapidly evolving digital landscape.


There are various questions in the air for a large number of companies, such as:
How to centrally manage company devices and inventories?
How to distribute and control software?
How to enforce security policies and monitor device misuse?
How to protect assets to prevent security breaches?
How to enable BYOD environments without exposing the companies security posture? 
In response to these and other questions, various companies have created solutions to enable versatile workflows for centrally managing company devices connected to the office network or through the internet; these solutions are known as Mobile Device Management (MDM) or Unified Endpoint Management (UEM). Mobile Device Management has evolved over the years and has moved to be available through on-prem or SaaS deployment, and can be used to manage a large variety of operating systems, including macOS, iOS, Windows, Android and others.
Here are some of the critical features that MDM or UEM solutions enable:

Inventory Management: MDM enables companies to manage device inventories centrally, allowing IT and security practitioners to obtain a real-time view of devices enrolled in the platform. Considering that Asset Management has always been one of the most significant challenges for security, this is a powerful feature that enhances the security posture and allows better visibility into devices that need to be protected.

Device Security: MDM allows IT departments to create custom security profiles to enable remote control and monitoring of mobile devices. From forcing full-disk encryption to tailored host-based Firewall rules, MDM can push very granular and specific security settings into any enrolled device.

Software Distribution: One of the most significant pain points for device management is the software distribution and control; MDM allows companies to implement customised rules (Allow or Deny Policies) to use specific software. It enables the implementation of self-service libraries that users can utilise to install approved applications on-demand; it also empowers IT and security to control and monitor the installation of unapproved pieces of software.

Policy Enforcement: Companies can use MDM to enforce compliance with security policies. Whether organisations allow personally owned devices (BYOD) or only company-owned ones, MDM can push specific restrictions to prevent security incidents. For example, based on the device type, a policy can be enforced to avoid access to particular company resources if the device is not compliant with the security settings (i.e., device not compliant with full-disk encryption).

Administration: Certainly, flexible administrative options are needed to enhance the organisation's ability to manage the various device types used in more complex environments. Nowadays, organiSations have a hybrid combination of operating systems connected onsite or offsite. While on-prem deployments can manage some devices, others required a cloud-based (SaaS) solution. Most MDM solutions offer both deployment types.

Audits and Reports: From a security standpoint, having detailed reporting into device monitoring is crucial when maintaining a proactive approach to preventing security incidents and data breaches. The more powerful MDM solutions come with a mixture of multiple reporting capabilities that can tell companies the more granular details about how the devices enrolled in the platform are being used and can show trends in areas like patch levels, encryption, geo-location, and others. Having robust audit and reporting features is instrumental in monitoring compliance with internal security policies or external obligations.
At present, the widespread use of mobile devices has become a norm in both personal and professional settings. However, managing these devices can pose a considerable challenge for individuals and organiSations alike. The complexity of managing multiple devices, securing sensitive data, and ensuring compliance with regulations can be daunting. Fortunately, with

SYNDES

, a comprehensive mobile device management solution is available to simplify this task. With SYNDES, you can have peace of mind knowing that your mobile devices are being efficiently managed and secured, enabling you to focus on what really matters: achieving your goals and objectives.
Sources: How Cloud-Based Mobile Device Management Supports Remote Working. (2021). ISACA. https://www.isaca.org/resources/news-and-trends/isaca-now-blog/2021/how-cloud-based-mobile-device-management-supports-remote-working
‌
‌
Sorry, the comment form is closed at this time.