Top 5 Benefits Mobile Technology In Business
Consider the last time you checked your email or made a quick edit to a spreadsheet at home on your smartphone. Now consider your most recent conference call, which more likely included participants from both inside and outside the workplace.
Nowadays, it's difficult to imagine a regular workday without these activities and tech affordances — specifically, mobile activities.
When these mobile communication gadgets are no longer available, the true impact is felt. Employees are relegated back to the days of wired, desk-stationed gear and landline-based phone conversations. They are missing out on the great benefits of mobile technology and its cutting-edge devices – equipment that save money while freeing up operations.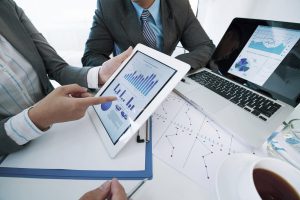 What are the Benefits of Using Mobile Technology in Business?
#1 Better Communication
The essential word here is "
better
." When businesses have such a wide range of purposes, values, scales, sizes, cultures, and capacities, what exactly is better communication?
Businesses that have built intuitive, and easy-to-initiate communications processes and behaviors, regardless of industry, have strong communication. To put it another way, effective corporate communication occurs when employees:
Have the tools they need to contact whomever they need

Feel empowered to do so

Using real-time and asynchronous channels From wherever they are and Whenever they needed to
This is made possible by the use of mobile devices in the workplace. It also reveals improved communication outside of work groups
#2 Increased Collaboration With Colleagues
One of the driving forces behind incorporating mobile devices and technology into your business is
telecollaboration
.
Mobile technology allows teams to collaborate from anywhere due to its borderless and wireless nature. These connections free employees from office-only functions and provide them with an immediate access to the papers and materials they need to complete their collaborative work.
Consider the basic G Suite: employees may communicate with one another via email, chat, and video, review collaborative spreadsheets, create group presentations, and store project notes to a Google Doc. They can do all of this at the same time as long as everyone has access to the internet.
#3 The Ability To work from Everywhere 
Over
33% of Malaysian workers
say they would prefer to work from home. At least
74 per cent of employees want flexibility
in the amount of time they spend going to the office, demonstrating the growing popularity of telecommuting.
This new concept of labour has been fueled by mobile technologies. Employees are no longer confined to their desks to access office programmes, documents, communication tools, or even the company's network, thanks to the impact of mobile technology on the business landscape.
#4 Enhanced Responsiveness
Access to mobile technology, contrary to popular belief, mobile technology enhances the rates at which employees respond to and manage tasks.
Mobile communication technology benefits remote or field-deployed staff the most. There are more ways than ever to contact team members, which means employees can receive notifications and reply to pertinent communications in more ways than ever before. The days of calling someone on a landline and hoping they were at their workplace are gone.
#5 Reduced operational Costs & Saved Time
Saving money and time is a winning combination in the corporate world. Mobile technology has been proven to do both in the workplace, providing mutually advantageous, time- and money-saving apps that can shave minutes, if not hours, off corporate operations.
In SYNDES TECHNOLOGIES Your Security Is Our Priority.
Sorry, the comment form is closed at this time.